Economic citizenship program of the Commonwealth of Dominica is one of only few currently existing official programs of that kind in the world. The other two programs are run by St. Kitts, Nevis in the Caribbean, Austria and Cyprus in Europe.
Is it legal?
Dominica's citizenship program is based on the Chapter VII, Section 101 of the Constitution,stipulated that citizenship can be granted under the Naturalization, and Citizenship Act,stipulated that persons who had been continuously resident in Dominica for five (5) yearscould apply for naturalization and may be eligible for citizenship on payment of prescribed fees.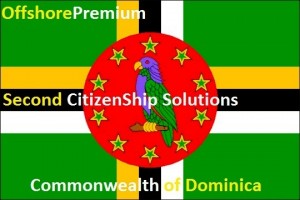 Amendment to the Citizenship Act in 1993 introduced a concept of Economic Citizenship and waived a residency requirement for investors making an investment in the amount and form stipulated by the Government which is currently 75,000 USD and will be increased to 100,000 USD (single applicant) on the 1st September 2012 which amount must be put into an escrow account during the proceeding and will be returned to the applicant in case of failure or paid to the government if the application is accepted.
 Conditions and Benefits
Applicant needs to have a clean criminal record and to subject himself to a due diligence. The process takes 3 month to be completed.
Citizenship granted as a result of this program is irrevocable, second citizenship is allowed and you are not obliged to reside in Dominica
 International Travel and Visa
In terms of visas Dominican passport allows free international travel to more than 100 countries and
territories where no visa required at all, or you easily get a visa upon arrival. The list includes United Kingdom, Hong Kong, South Korea, China, Singapore and most British Commonwealth countries. And for those countries where a visa is still required, you normally can obtain it with minimum formalities within a couple of days.
Europeean Union has now accepted free visas travel for Commonwealth of Dominica within Schenghen. This measure will be implemented before the end of the year
You can also extend your visa-free access by obtaining a residence permit in an appropriate country. For example, if you obtain a residence permit in Canada, you will be able to travel to the United States.
 Our opinion
The best program available for economic citizenship in terms of costs.
Do not hesitate to contact us at [email protected] for more information on this program. You can also contact us through our contact form